Lemongrass Bentong Ginger Tea 香茅文冬老姜茶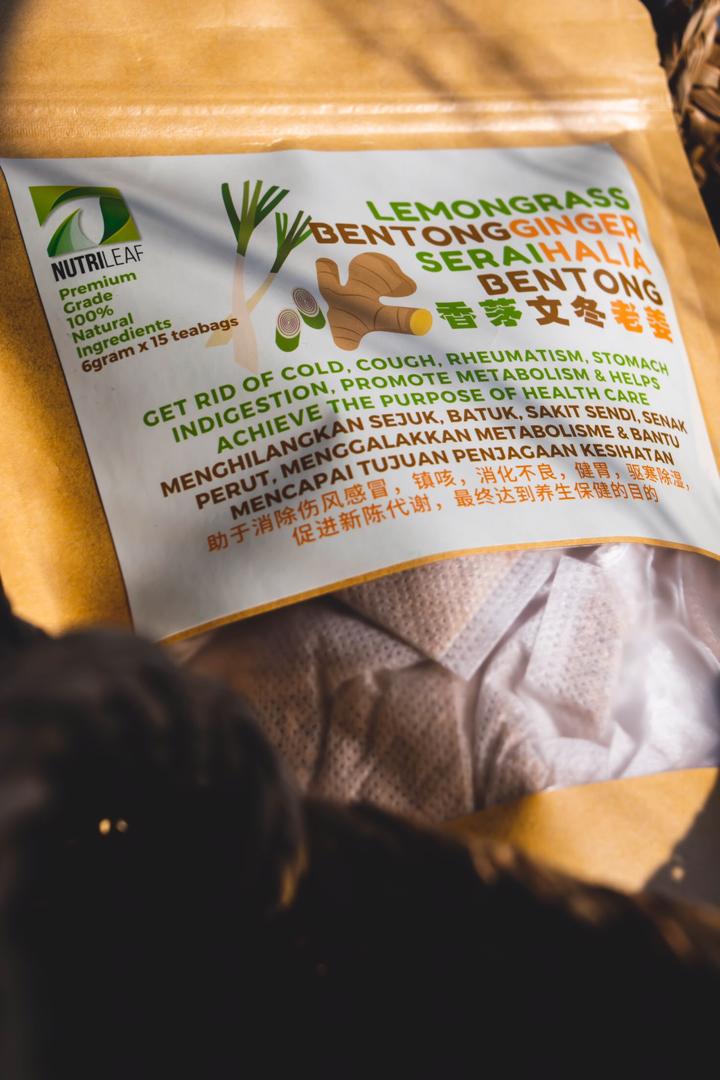 Lemongrass & Bentong Ginger are two of the best food ingredients for digestion aid and contain Anti-inflammatory properties. It also helps to lower the risk of chronic diseases, cholesterol, regulate high blood pressure, boost metabolism, burn fats, heals cold, and flu.
This tea not only warm your body but also provides you with immune-boosting effect, perfectly matched with the fragrant and citrusy taste of lemongrass that helps to relieve anxiety too.
Ours Lemongrass & Bentong Ginger Tea is specially made for a busy person like you. Just drop a tea bag into your thermal flask or a cup with lid, add in hot water let it steep approximately 12 – 15 minutes and Wala! There you go a warm and calming cup of tea, ready to be served!
No worry of heatiness. Why? Because we do not use artificial heating processes that will damage the nutrition in the ingredients and brings too much heat into our body after consumption. And we do not dry them in direct sunlight which may cause contamination.
Psss.... this tea is loved by everyone, please do not simply place it. Store it in a safe place or else it will be gone in a while.
Other benefits
Anti-oxidant
Relieves stress & headache
Reduces arthritis pain & menstrual cramps
Relieves sore throats
Relieves upset stomach and indigestion
What's inside?
6gram x 15 teabags
Note
For Quality Assurance, we ONLY produce according to confirmed orders & quantity that currently sufficient for weekly demand. We DO NOT overproduce or stock up ready-made tea. That means weekly fresh production! Bulk orders will take at least 3 - 5 days for production before shipping or delivery.
香茅和文冬老姜两者具有天然消化和抗炎的成分。有助于降低慢性疾病的风险,降低胆固醇,调节高血压,促进新陈代谢,燃烧脂肪,治愈感冒和流感。这茶不仅可以温暖身体,还可以增强免疫力。结合了香茅的芬芳柑橘味有着缓解焦虑的作用。

我们的香茅文冬老姜茶专为现代的忙碌人士制造。只需将茶袋放入保温瓶或带盖杯子中,加入热水浸泡约12至15分钟即可。无论在哪儿,您都可以随时享用一杯温暖可口的茶!

担心发热气?不怕,因为我们不曾使用人工加热过程而饮用后会给我们的身体带来过多的热量。不仅如此,这过程还会造成我们成分中的营养被破坏或流失。我们也从不在阳光下晾干,因为这可能会导致成分被污染。
额外好处
抗氧化剂
缓解压力和头疼
减轻关节炎疼痛和经痛
帮助减轻喉咙不适
帮助消化不良和缓解胃部不适
包装内含
6克x 15茶包
注意
为了保证质量,我们每周只生产足以满足市场的需求量和仅根据已确认的订单而产。从不大量生产也没有多储存现成的茶,因为我们坚持每周新鲜生产!批量订单需要3-5天完成后发货。
---