Red Dates Bentong Ginger Tea 红枣文冬老姜茶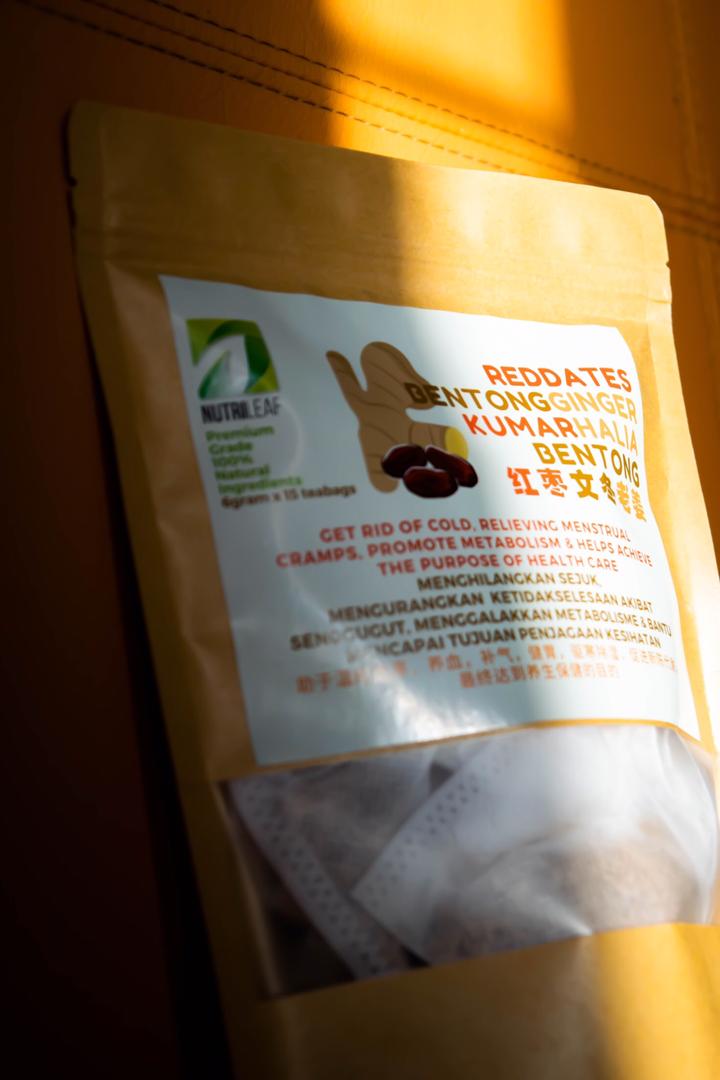 Our Red Dates Bentong Ginger Tea uses the home traditional recipe that has been passed down for countless generations with the modern way of preparation.
This traditional tea helps promote blood circulation, nourish nerves (especially for those who work long hours in front of the desktop with tired eyes and stiff shoulder) and most importantly it promotes metabolism, improves memory, and having a clear mind for thinking.
Studies show red dates are packed with protein, Vitamins B and C, as well as trace minerals such as Calcium, Magnesium, Phosphorus, Potassium and Iron. Nowadays ladies used to drink red dates ginger tea during or after menstruation to keep their stomach and body warm as well as soothe discomfort of menstrual cramps. The Calcium in red dates helps boosts bone health and forestalls osteoporosis. With the blend of Bentong ginger it helps lower cholesterol, boost immune system functions, lower the risk of obesity, diabetes, heart disease and even suppress cancer-causing cells.
Our Red Dates Bentong Ginger Tea can be consumed every day without the worry of heatiness. Why? Because we do not use artificial heating processes that will damage the nutrition in the ingredients and brings too much heat into our body after consumption. And we do not dry them in direct sunlight which may cause contamination.
Health Benefits
Promote blood circulation
Boost heart health
Anti-inflammatory
Reduces blood pressure & risk of stroke
Helps fight iron deficiency
Promotes respiratory and digestive health
What's inside?
6gram x 15 teabags
Note
For Quality Assurance, we ONLY produce according to confirmed orders & quantity that currently sufficient for weekly demand. We DO NOT overproduce or stock up ready-made tea. That means weekly fresh production! Bulk orders will take at least 3 - 5 days for production before shipping or delivery.
我们的红枣文冬老姜茶采用了传统配方,更配合了现代化的制备方式而成。这茶有助于促进血液循环,滋养神经(特别是对于那些长时间工作,眼睛疲倦且肩膀僵硬的人)。最重要的是,它可以促进新陈代谢,增强记忆力给予更清晰的思维。

研究发现红枣中富含蛋白质,维生素B和C,以及微量矿物质,如钙,镁,磷,钾和铁。现今许多女士尤其在月经期间或之后,都习惯喝红枣姜茶以帮助保持胃和身体温暖,并缓解月经来潮带来的不适。红枣中的钙还可以促进骨骼健康并预防骨质疏松症。再与闻名的文冬老姜的混合更有助于降低胆固醇,增强免疫系统,抗糖尿病,降低心脏病的风险,甚至抑制致癌细胞。

无需担心发热气,我们的红枣文冬老姜茶可以每天饮用。因为我们不曾使用人工加热过程而饮用后会给我们的身体带来过多的热量。不仅如此,这过程还会造成我们成分中的营养被破坏或流失。我们也从不在阳光下晾干,因为这可能会导致成分被污染。
额外好处
促进血液循环
促进健康心脏及呼吸系统
降低血压和中风风险
帮助对抗铁缺乏症
促进消化功能
包装内含
6克x 15茶包
注意
为了保证质量,我们每周只生产足以满足市场的需求量和仅根据已确认的订单而产。从不大量生产也没有多储存现成的茶,因为我们坚持每周新鲜生产!批量订单需要3-5天完成后发货。
---